Replacing BlueVenn? Find out why we're the best alternative.
Learn more
Replacing BlueVenn? Find out why we're the best alternative.
How many marketers understand Customer Lifetime Value?
David Judd
As a long-standing Digital Marketer, I was there when the Internet started to attract and acquire customers, and even though the channels and complexity have increased, the basic objective remains the same: "cost-effectively grow and retain my customer base".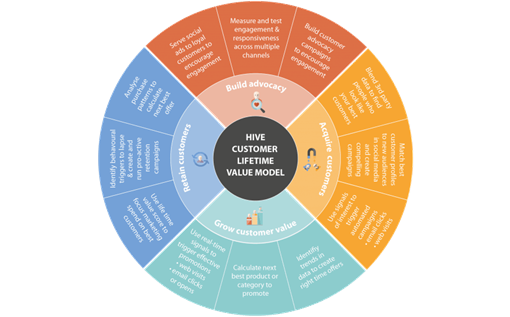 I was introduced to Customer Lifetime Values (CLV) very early on whilst I marketed for several online gaming companies over a 5-year period. What I learned in this sector about ROI, attribution models and retention has served me very well when moving to other sectors.
Marketing trends
Over the last decade – due in no small part to the expansion of comparison websites – the consumer has become seduced by new sign-up promotions and is highly motivated by price. In the last couple of years, as consumers get swap-fatigue, I have noticed a small shift towards quality of service in preference to price. They are remembering that trusted brands, regular meaningful communication and a solid value proposition, are actually worth something. It is therefore critical that brands understand their customers in detail. It is also important to maintain regular relevant communication with customers and retention through positive engagement and mutual loyalty.
Charting examples
Hive has created a datasheet that explains the importance of the CLV, so I'd be keen to hear if anyone else has experienced a shift in short-term acquisition in preference to longer-term retention?
The Customer Lifetime model can also be explored further here.
About the Author

David Judd
David has over 25 years experience as a marketing practitioner and consultant. He has successfully setup and led marketing operations and digital teams with the purpose of evangelising customer-centricity. He has been a consumer of marketing technology in companies of various sizes and industries and has consulted on digital optimisation with leading brands. David is passionate about improving marketing operations and is a regular contributor to the DMA and LinkedIn on subjects ranging from GDPR to operational frameworks.
Articles
This is what we're talking about