Replacing BlueVenn? Find out why we're the best alternative.
Learn more
Replacing BlueVenn? Find out why we're the best alternative.
Rethinking postcards - your new digital marketing channel
Adam Knight
You may have dismissed direct mail into the dustbin of the past but does personalised, on-demand postcard marketing mean it's time to rethink the humble postcard?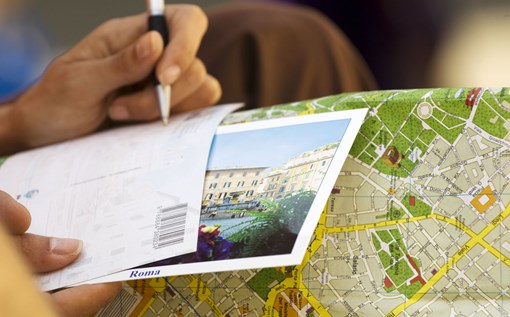 When was the last time someone sent you a holiday postcard? Even if it's been a while, you probably have a warm nostalgia for these picture-led mementos. As a marketing tool, postcards have historically struggled to deliver a personal touch that lived up to their origins. Recent advances in print, distribution and data personalisation mean that the postcard is now ready to step up into the personalised marketing age.
Return to sender
You may have considered adding postcards into your marketing mix before but have been put off by the effort and risk involved. In the past, having to order in bulk made it expensive to correct a mistake in the copy or update to a new design if the branding or the message changed. Buying large batches of postcards also meant having to send to everyone in one go, or storing safely for manual posting by the marketing team. This made sending postcards a relatively high-effort, high-cost activity.
targeted postcards
can deliver a
20%
boost in ROI
rate of
9%
customer response
Power post
The great news is that ROI for postcards is significantly higher than digital messaging. Direct mail has a 9% response rate from customers which is nine times the typical response rate seen on email, paid search and social media activity. Also, direct mail is kept in the home for nearly nine days on average (with a sizeable 27% keeping it in a home for 28 days). It is also read up to five times, allowing your business plenty of time to make a lasting impression. Postcards remain a very effective marketing channel, and innovations in personalisation and delivery mean that the barriers of the past are no longer a problem.
Bye-bye bulk
Traditionally a minimum order was required to justify the high set-up costs, so bulk orders were encouraged by printers. Digital printing doesn't have the same overheads because it is entirely 'print on demand'. Each card is printed individually, so you only send the postcards you need, saving money. Plus, if you spot a mistake or need to change your branding, corrections can be made ad-hoc and applied to further sends, reducing the risk of waste.
Postcards now in Hive!
You can now add your own customised designs, then print and deliver postcards direct from your customer journeys.
Learn more
Cross-channel influence
We're not saying ditch your email strategy and move wholesale to postcards. There's a huge benefit in being cross-channel. Studies have claimed that ROI is boosted by as much as 20% when part of an integrated campaign and our own more recent customer experiences support this.
Incorporating a different medium in your media-mix also means that you can reach individuals who may be unavailable via email, or have simply tuned out from online messaging. Neurological studies have found that physical mail, such as postcards, required less cognitive effort to read, which made it easier to understand and more memorable with a far higher brand recall rate than online messaging.
Incorporating a different medium in your media mix also means that you can reach individuals who may be unavailable via email, or have simply tuned out from online messaging.
A personal touch
It's fair to say that historically marketing postcards have struggled to deliver that personal touch that made postcards so special in the first place. The knock-on effect was while addressed postcards saw better read rates than door drops, they were still unable to provide a truly personal experience that's so important. After all, they were always a gesture to show you were thinking about someone, even if you were enjoying your holiday.
Just including someone's name on the design can transform a postcard from mass marketing into personal communication. With access to customer behavioural data, personalisation can go way beyond just adding someone's name. You can provide different cards to different people based on what they've bought in the past or tailor messaging based on other information they've chosen to share. The level of dynamic content you may be used to doing in marketing emails is completely possible, and the results are impressive. A widely-referenced and still relevant study by Romano and Broudy showed that using sophisticated database information to drive content personalisation in marketing mail gave more than 3.5x the response rate compared to just adding a person's name.
Delivering the right message at the right time
The problem with bulk printing postcards in the past was either they all needed to all be sent at the same time missing any chance of timely sending or sent manually by the marketing team, which becomes impractical as your contact list grows. This process can now be automated as part of the same automated customer journeys that marketers use to drive their digital messaging. Triggers for postcards can include stages in a marketing journey, customer purchase history, browsing behaviour or key dates from their profile. With no more effort than setting up a simple automated trigger, a marketer can land a postcard on a doorstep at just the right moment to have the maximum impact.
on average, postcards
are kept for
nine days
by recipients
personalised
mail persuaded
13%
of customers to
try email again
Get creative
With such a flexible process it's worth thinking about how each message needn't be a hard sales message, you could treat your customers with offers, gifts or find other creative ways to show that you're thinking about them. The key is customer relationship management to work out what data you have about a customer that is useful and how it can be leveraged to send personalised communications. Here are some creative uses of postcards for marketing:
A pet insurance company could target copy specifically for cat or dog, how about a birthday postcard for the pet in question?

A travel company could trigger a postcard which featured a scenic view from the region where a customer had holidayed. Think of the impact this would have if a "wish you were still here?" postcard arrived on your customer's doorstep on the day they returned home.
What about GDPR?
One of the main benefits of personalised postcards is that, if executed well, you main be able to gain trust on other channels. Royal Mail MarketReach included a programmatic mail from IKEA sent to Family Card members who had opted not to receive email newsletters. A personalised piece of mail was able to persuade 13% of its customers to try email again. Of course, there are GDPR regulations for mail, but it's worth bearing in mind that regulation isn't as stringent , so a prior opt-in isn't necessary when first communicating with a customer.
Postcards grew from the desire to make a personal connection from afar, and are proven to be an effective and GDPR compliant way to reach out to customers. With digital advances making them as flexible and easy to send as emails, isn't it time to reconsider how postcards fit into your marketing mix?
About the Author

Adam Knight
Adam has been working with data and analytics products for over 15 years. During that time he has provided software to some of the largest financial, telecommunications, technology and automotive companies in the world including HPE, Dell, AT&T, Barclays, CSFB, Daimler, BP and Jaguar Land-Rover. Adam is passionate about delivering high-quality software and he is a popular writer and international conference speaker on the subject. Adam defines the product roadmap and ensures that Hive's capabilities are always delivering on our vision.
Articles
This is what we're talking about